YpsoPump:
The small, simple insulin pump
Each insulin pump and continuous glucose monitor (CGM) offers its own distinct features – how do you choose the best one? The key is identifying which system has the key features that meet your family's needs and lifestyle, while minimizing your personal deal-breakers. To help you make this choice, here we outline the unique features that may just make the YpsoPump® (by Ypsomed Diabetescare) a great match for your diabetes management needs.
NOTE: This independent review is provided by Waltzing the Dragon; we are not affiliated with Ypsomed, the makers of YpsoPump. For sales enquiries, please contact the company directly.
Key Features of YpsoPump®: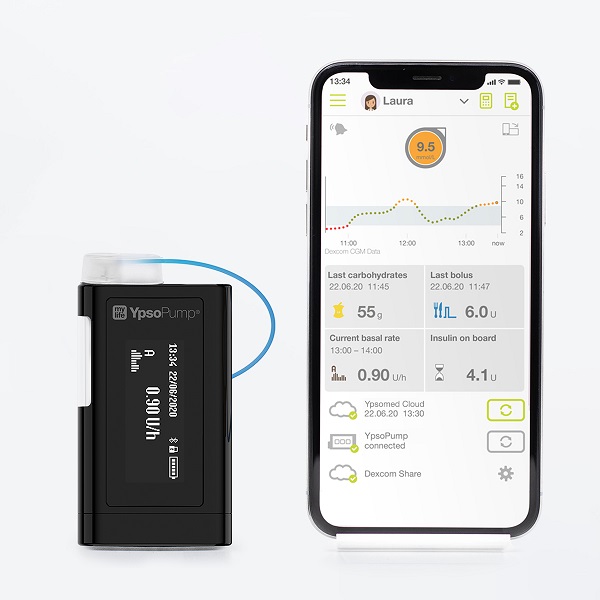 As the smallest insulin pump available in Canada (46mm L x 78mm H x 16mm D) YpsoPump has a compact, slim, portable design, and weighs only 83 g (including battery and filled cartridge).
If you're looking for relief from the complexity of diabetes, then the simplicity of YpsoPump may appeal to you. Touted as "the intuitive insulin pump system" with a tagline of Enjoy Simplicity, YpsoPump is a "simple, reliable device that does exactly what it's supposed to do."
Pump functions and features focus on the essentials of insulin delivery: basals (including a temp basal function) and boluses (standard, extended, and a "blind bolus", delivered without having to look at the pump), plus straightforward cartridge and infusion set changes.
The pump uses intuitive operation via touchscreen1 which displays self-explanatory icons. Since the interface uses pictures rather than words, it's independent of any given language; you don't have to be able to read English to operate it. (The one caution is that you should familiarize yourself with what each icon means before using it, to make sure you haven't misinterpreted its function.)
The operations are intuitive, and therefore easy to learn, as they work much like a smart phone: swipe left and right to move through the icons on the main screen; swipe left to view your last bolus dose; spin the number wheel to set the date/time, and to set basal rates; "start" and "stop" icons are familiar (check mark and X).
YpsoPump is open platform by design. This means you aren't tied to a particular brand of blood glucose meter or Continuous Glucose Monitor (CGM); you can use it as a stand-alone insulin pump, or with any Bluetooth-enabled BG meter, CGM (like Dexcom), or smart phone.
You can also use YpsoPump alongside the Freestyle Libre Flash Glucose Monitor, though you need to manually enter the FGM (Libre) results into the app, since it uses NFC (near-field communication) while the YpsoPump app uses Bluetooth.
YpsoPump connects to your smart phone through the YpsoPump app (available for both Apple and Android). The pump-to-app communication is 1-way (the app will not talk to pump), so there is no worry about accidental bolus delivery from the app.
Through the app you have access to additional features, such as a bolus calculator and remaining Insulin on Board (IOB), both of which are available only through the app (not on the pump itself). This means that if you misplace your smart phone (or your child leaves his behind at school) then, while you can still operate the pump on its own (basal and bolus in units of insulin), you will not be able to access the bolus calculator or IOB status.
Bolus Calculator: recommends insulin doses based on your individualized Insulin-to-Carb ratios (I:C) and Insulin Sensitivity Factor (ISF). As we just mentioned, there is no bolus calculator in the pump itself (like there is with other pump models), so you must enter a bolus amount into the pump in terms of Units of Insulin. If you don't know the correct number of units, delivering a bolus becomes a bit more time-consuming than with other pumps:
without the app you would need to know your I:C's and ISF's and use a regular calculator to crunch the grams of carbs, I:C, BG reading, and ISF ; you would then manually enter the number of units of insulin into the pump, OR
with the app, you would enter the grams of carbs and/or BG reading into the bolus calculator (with your I:C's and ISF's previously entered), and then manually enter the result into the pump itself.
Insulin on Board (IOB): tells you how much insulin is still active at any given time. Again, this is a drawback of the simplicity of the YpsoPump: the IOB status is not displayed on the pump itself like it is with other pump models. If you want to give a correction dose of insulin to reduce above-target blood glucose, you will need to use the app to determine how much of a correction is needed after IOB is taken into account. On the flip side, if your glucose is on the low side and you want to know whether you need a snack or low treatment to cover the extra IOB, you will need to use the app to find out.
The app is the repository of all your diabetes-related data:
You can send insulin data from the pump to the app by syncing via Bluetooth, plus you can seamlessly transfer your glucose results to the app from any Bluetooth-enabled BG meter.
You can access all your data (including a logbook and summary stats) through the app, helping you to make therapy adjustments based on the peaks and valleys in your data.
Need remote viewing? So you can see what's happening when your child is at a sleepover, or when your spouse is away on a business trip... Your data is stored on the cloud, so anyone with internet access can view it from anywhere in the world.
To earn its place as the smallest insulin pump in Canada:
YpsoPump design does not include a clip to attach your pump to a belt, so you need to tuck it into your clothing, or use an after-market pump belt. (Its small size makes it easier than other pumps to tuck into a pocket or bra.)
The insulin reservoir is also small: it holds only 160ml of insulin (equivalent to 160 units), so may require frequent replacement for those on larger doses of insulin.
While we're on the subject of pump cartridges… the YpsoPump Reservoirs are glass. All the other insulin pumps available in Canada have plastic reservoirs which are degraded by insulin, requiring you to load a fresh cartridge every 2-3 days. But YpsoPump glass reservoirs, self-filled** with your insulin of choice, can be used in the Ypsopump for up to 7 days or stored in the fridge (at 2-8 degrees C) for up to 30 days (the same shelf-life as an opened vial of insulin). Also, you can replace the infusion set without having to replace the insulin cartridge, so you can leave the cartridge in the pump longer, which saves time, hassle and insulin.
(**Pre-filled cartridges are not yet available in Canada as of May, 2019)
YpsoPump Orbit® infusion sets rotate 360 degrees for freedom of movement, so you don't have to worry about the tubing orientation as you insert it. Also, the blue colour of the tubing makes it easier to see any air bubbles (so you can prime them out before they cause problems). The trade-off for 360 degree rotation is that the infusion set profile is higher than other brands of infusion sets.
The Orbit inserter is re-usable, which means less waste than sets with disposable inserters. And (here's the best part) if you're not happy with a site right after insertion and you want to change sites, you haven't wasted an infusion set – you can re-use the set to relocate it to a better site.
The screen uses a high contrast (OLED) black-and-white display, which is easy to read in any light. And here's a cool feature: you can rotate the screen 180° for either left-handed or right-handed use!
YpsoPump uses one regular AAA Battery which last about a month, so you don't need to buy expensive lithium batteries.
YpsoPump comes with a 5-year warranty (longest coverage period on the market) that covers pump failure, waterproof feature, AND (I'm told anecdotally) legitimate loss/theft. In case of pump failure, the customer support phone will be answered by a real live person 24/7/365, with a goal of getting a replacement pump to the user within 2 hours in all major centres (once they are up to full operational speed).
Want to interact with YpsoPump before making a decision? Ypsomed offers the opportunity to get a feel for the YpsoPump insulin pump without being in possession of the physical device: with their YpsoPump Explorer app, you can experience the pump in its actual size on your mobile phone.
Side-by-side comparison of YpsoPump with other insulin pump systems:
Scientific publication of the YpsoPump HomeUse study results: D. Waldenmaier, F. Freckmann et al., First User Experiences With a Novel Touchscreen-Based Insulin Pump System in Daily Life, 2018 JDST Journal of Diabetes Science and Technology, 1-7, doi: 10.1177/1932296818785386.