Pump-Wearing Options
to secure your diabetes gear
Michelle MacPhee
D-Mom, Creator/Co-founder of Waltzing the Dragon
One of the most practical questions plaguing insulin pumpers and CGM-users is: where do I put it??? How to secure this insulin pump, 24-7? How to carry the smartphone receiver for their CGM? And is there room for a few low treatments in there, too? Read on for practical, stylish and discreet ideas for wearing diabetes tech,
Before our then 3-year-old son got his first insulin pump we didn't really think much about insulin pump wearing. But once that life-altering, pump-containing box arrived on our doorstep (followed soon after by the CGM box), we encountered the first pump-related hurdle: where to put it??? How to secure this insulin pump, 24-7? How to carry the smartphone receiver for their CGM? And is there room for a few low treatments while we're at it?
We started out simply putting it in his pocket. Convenient, inexpensive, and no prep work required. But the pump was pretty bulky on a little body and sometimes it got in the way when he was sitting down or playing on the floor. When he was jumping on a trampoline in athletic shorts, the pump bounced right out of the pocket. The pump tubing snaked out of his pants pocket, over his waistband and into his underwear to meet up with the infusion site on his bum, sometimes poking out enough to get snagged on a hand or object. Thankfully, there is a diabetes-tech-wearing accessory to overcome every frustration...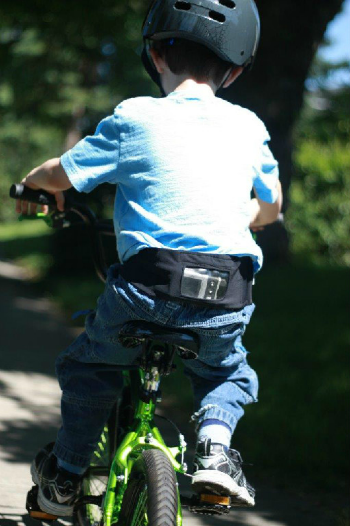 If the pocket idea fits your needs, you can manage the "escaping tubing" problem by cutting a small hole in the inside lining of the pocket of your child's pants, then feed the connector end of the tubing through the hole before connecting the tubing to the infusion set. When planning a place to cut, consider the shortest route from pocket to infusion site; the back of the pocket may work better than either the seam or the front side of the pocket. Please, learn from my mistake: cut the hole in the TOP of the inside pocket lining – if you cut a hole in the bottom, and the stitches unravel further, you may end up with a hole big enough for a pump to fall through. I realized this is what I had done wrong when our son's pump hit the floor with a Clunk! as I was congratulating myself on my brilliant adaptation skills. Oh, well. File that under "live and learn."
If a given article of clothing doesn't have pockets, you don't have to give up on the pocket idea. We have found it handy to construct a small hand-made "pocket" the size of the insulin pump (with or without a closing flap) from a mis-matched sock, or some comfy fabric, which can then be sewn to the inside seam or waistband of pants, pyjamas, or a dress. With this method, the insulin pump stays close to your child's body without the need for extra belts, straps and connectors. If you want to make an inner pocket that you can move from one article to the next, instead of sewing the pocket to the clothing, simply add a piece of Velcro to the outside of the hand-made pocket and then sew a piece of the opposite side of the Velcro to the inside of each item of clothing that you want to use the pocket in. (To avoid the scratchies, use the soft-loop side of the Velcro on the clothing item, facing your child's skin.) Then you can stick it and remove it as needed. ~Michelle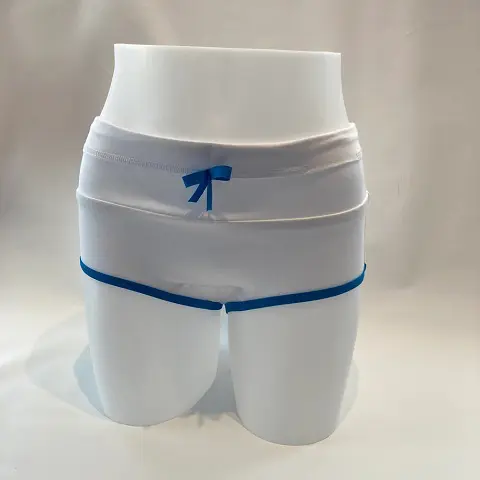 Not much of a sewer? Pump Pocket has you covered! Kids clothing with specialized pockets to secure T1D gear: Insulin pump, CGM receiver, phone, BG meter… anything your T1D kid/teen needs to take with them. They offer two types of pockets - a slip-in style pocket for when you need to quickly access your pump for a fast correction, food bolus or status check, and a more secure, envelope style pocket for cartwheels or soccer practice. Play hard, play free!
Pump Pocket clothing is:
designed by a diabetes-mom to solve her son's trampoline + pump conflict

created from eco-friendly, sustainable, super-soft Modal jersey (made from the pulp of beech trees)

proudly designed and made in Canada by local manufacturing partners who pay their workers a living wage.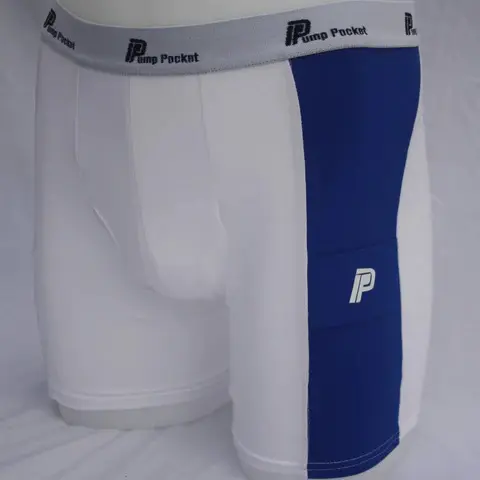 More Pump-Wearing Options
For options beyond pockets, we started looking into pump pouches (pump packs, pump belts, pump bands, pump pockets… you get the idea) and found an amazing variety of pump-wearing accessories, some available close to home, some available farther away but still within Canada; some clear winners we have had to order from outside Canada. There are enough variations to satisfy any budget, to match any function, and to fit a range of fashion preferences:
There are hard-cases for protection against knocks and bumps, or soft-sided pouches most often made from stretchy Lycra or comfy cotton. Some have a loop on the back to feed a belt through; some have integrated belts. Some belts are stretchy elastic; some belts are woven, so don't stretch at all. Some have expandable pouches that grow as you fill them with an insulin pump, phone, CGM receiver, blood glucose monitor, low treatment; other pump pouches are a fixed shape and size, to snugly contain an insulin pump.
In terms of waist pump belts, the two companies that we have used the most are Spibelt and Tummitote (from Tallygear).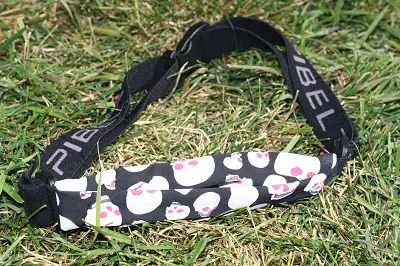 Spibelt makes sports/running belts that work GREAT for diabetes gear. They're made of stretchy Lycra with an integrated elastic belt and a zipper closure on the pouch. They offer lots of colours and prints to fit any style, and come in a variety of sizes from child up to adult. Even when he was three years old, a Spibelt fit snugly on our skinny son.
The nice thing about Spibelt is they are small and streamlined, but can expand to accommodate all the paraphernalia that individuals with diabetes carry around. The company offers belts with a single pouch or with two pouches on the same belt - our son prefers this model, as he can put his pump in one pouch and his phone in the other, reducing the risk of scratched screens on both. Also, they are designed not to flip, sag or bounce during activity, so are handy for runners, jumpers and any athlete who wants to carry the essentials with them on their adventures. Additionally, if you get a SpiBelt wet, the Lycra fabric dries quicker than pump pouches made of cotton.
The only drawbacks we've found are: that the plastic clip can be uncomfortable if our son lays on it, or (I hate to admit it's happened!) if we catch his skin in the buckle when we're snapping it shut; since there are no see-through windows, you have to take the insulin pump out to access the buttons, which some people may feel is a hassle. (Canadian readers note that Spi-Belts are manufactured in and ship from the USA, though you can order from third party re-sellers in Canada.)
Tallygear makes a stretchy Lycra waistband called Tummitote: about 3 inches wide, with three Velcro-closure pockets that are integrated into the belt design; a wide Velcro section keeps it snugly attached around your child's waist. They also offer dozens of colours and cool prints, as well as a range of sizes. Again, our skinny little boy has worn a Tummitote since he was three without it hanging or gaping. Like Spibelt, if you get a Tummitote wet, the Lycra fabric dries quicker than pump pouches made of cotton. When we asked each of our sons which insulin pump belt was their favourite, they enthusiastically endorsed Tummitote, saying that they're really comfortable, and they NEVER flip or twist. The other thing we love about Tummitote from a parent's perspective, is that you can opt for a clear, see-through window for one or more of the three pockets, which means you or your child can see the trend graph on a Continuous Glucose Monitor (CGM) receiver, or push the function buttons on an insulin pump, without having to take it out of the pouch. This is a selling feature for some and a nightmare for others (depending on how much access you want your child to have), so you can opt for all Lycra (no clear windows) if you choose. Also, the three separate pockets evenly distribute different items – we put our son's pump in one pocket, his CGM receiver in another, and still have another pocket to store some fast-acting glucose for treatment of low blood glucose – all without creating a big bulge in one area. The drawbacks? Tummitote is wider than Spibelt (not as discrete) and can trap body heat – we find our son sweats quite a bit under his Tummitote at night and on hot summer days, so we tend to use a different insulin pump pouch at these times. In terms of style, Tummitote may be embraced by kids and some teens, but style-conscious teens and young adults may gravitate to other hipper designs. (Canadian readers note that Tummitote is manufactured in and ship from the USA.)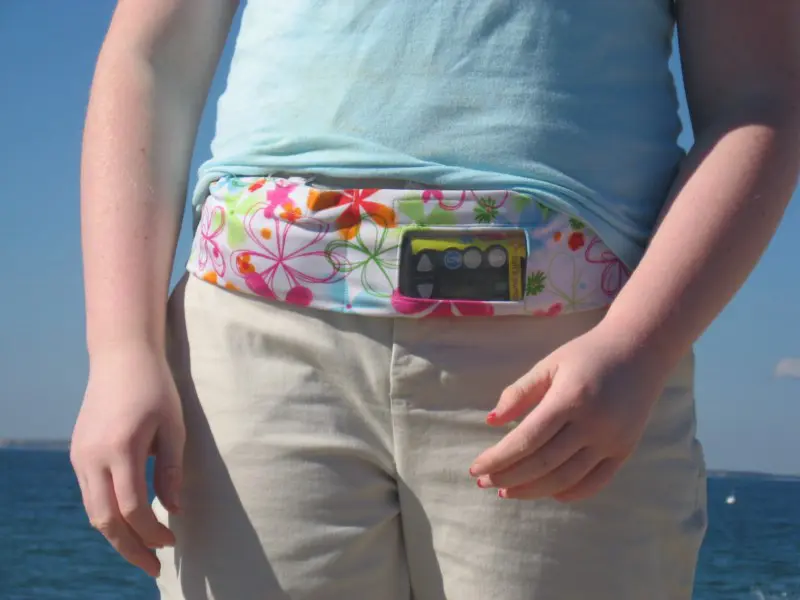 We have also love the small, soft-sided, quilted-cotton pouches from Grandma's Hands, another quality Canadian company. When my (Michelle's) son first got his pump, he LOVED the pouches we got for him: one with police cars all over it, one with a colourful ambulance/emergency vehicle pattern. They also have cool patterns for older kids. The main drawback for us was the non-elastic belt that came with it – it didn't "give" so wasn't as comfortable around his waist as other pump belts. If you love the pouches, however, you can order a pouch without a belt and feed any preferred belt through the loop on the back of the pouch. ~Danielle and Michelle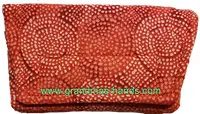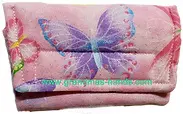 A pump band is stretchy, one-piece, continuous tube made of Lycra or similar fabric that you slip onto your arm, calf, thigh or waist. Then you tuck the insulin pump (or phone, meter, etc) between the layers of fabric, or between your skin and the band, holding the diabetes device in place.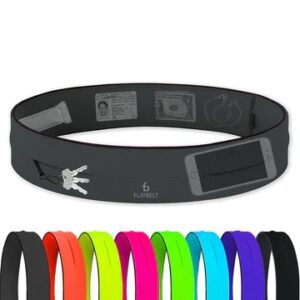 These pump-sized fabric pockets (made of soft velour, satin, or cotton) attach to the side-band or clip to the centre portion of a regular bra using Velcro or plastic snaps. There are also bras available that are made especially for pump-wearing; they come fitted with the pump pocket sewn into the strap. Many teens and adult women we've spoken to love the discreteness of a bra pouch, and the fact that they don't have a bulge at their thigh or waist like they do with other pump pouches.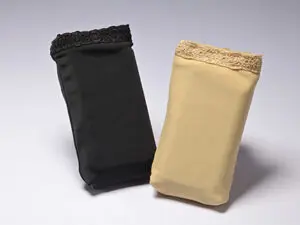 Some insulin pumps have a removeable clip that fits right on the back of the insulin pump to clip it right onto a belt or pants' waistband; others dangle from a clip your child attaches to a belt loop, buttonhole, zipper pull or something similar.
Check out your pump company's website for different clip options.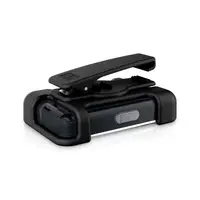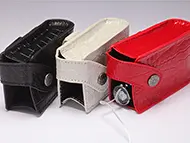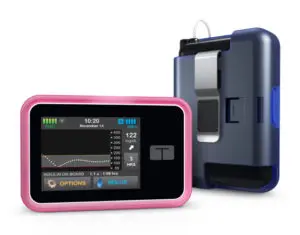 Over-the-Shoulder Harnesses: a small case with a long strap your child slips over one shoulder like a messenger bag.
The straps of a Pump Harness run over your child's shoulders/torso to a teeny pump-sized backpack on her back, keeping the insulin pump in the centre of the back, out of your child's reach. You can buy a pump harness and other kid-friendly accessories from Medtronic Diabetes Canada.
(Note that locking the user screen of the insulin pump can also prevent unintentional tampering with the pump, and is a good idea anytime you want to prevent unauthorized access to the pump.)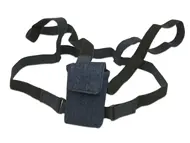 Silicone, rubber, or thin plastic wraps that replicate the exact shape of the insulin pump; these don't actually hold the pump to your body, but they do dress it up – slip one on your child's insulin pump to change its colour and to express your child's personality.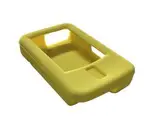 PumpPeelz removable adhesive skins are made to custom fit most insulin pump, CGM and diabetes-device models (Omnipod, Dexcom, Medtronic, Animas, Verio, Contour Next… the list goes on!) Eco-friendly and non-pvc, Pump Peelz provide a personalized and fun look while also protecting your device from surface scratches, dust, and liquid. They offer a huge variety of colours and patterns, from music, sports, nature, geometric patterns, abstract designs – you can even create your own custom skin.
(Canadian readers note that Pump Peelz are manufactured in and ship from the USA.)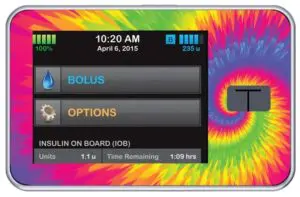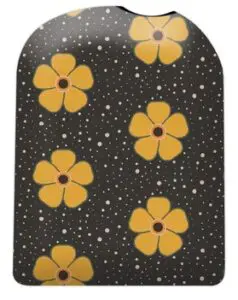 We also love RCrazyIncredibleLife insulin pump, pod and CGM sensor covers!
D-Mom Jennifer began making her custom covers to decorate her daughter's Omnipod pods and Dexcom transmitter. When they saw how excited she was to wear them, they decided to share that joy with other T1D's. Their mission is to provide durable, creative covers, at an affordable price, and to help make inset and sensor changes in your home a little bit better! From hockey/bball/sports to Lego and robots, to art and Canadian flags, to unicorns and princesses… there's something for everyone, at every age, in a variety of themes and styles. Or submit your own photo for custom covers.
Their vinyl sensor and pod covers are durable, waterproof, reusable, and distributed from right here in Canada (to keep your cost as low as possible by avoiding exchange and shipping up-charges).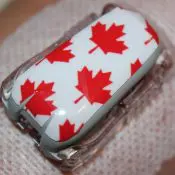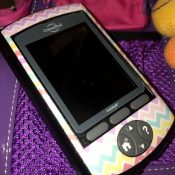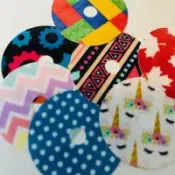 I start looking for pump accessories the same way I start looking for almost anything: I Google it. There are countless online retailers of pump-wearing accessories… just browse around until you see something that grabs you.
You may also want to check out the pump-wearing accessories on the pump manufacturer websites. (Bear in mind that pump accessories sold by your child's pump company will naturally fit your child's pump; those from other companies may or may not.) Generally speaking, the pouches and cases sold by the pump companies are basic in style and colours, nothing too fancy (though you may want fancy to convince a resistant young child or a picky teenager to wear a pump). On the plus side, however, pump company accessories are typically functional, discreet, and cover a wide range of needs – a good step in your pump-wearing research.
You could also seek out packs and pouches not specifically designed for insulin pumps. Earlier on in our pumping life, we went to Mountain Equipment CoOp (MEC) and looked through their pouches and belts – they're worth a try to get something in your hand immediately, as well as something that can stand up to outdoor activites. They have a nice range of utility packs to fit an insulin pump, though nothing specifically designed for pumps. We also have had success with cell phone cases from various Looney Stores. We found an inexpensive green, camouflage-print cell-phone case with a clip on the back that our son used lots when he went through a period in which he didn't want to wear belts – we simply clipped the case to his belt loop. And the camo print had him sold on the idea. And at dollar-store prices, you can stock up for the kid who likes variety.
Whatever and wherever you find pump-wearing accessories, feel free to try a few different options to see what fits; the key is finding the options that match your child's activity needs as well as their personality. Happy hunting!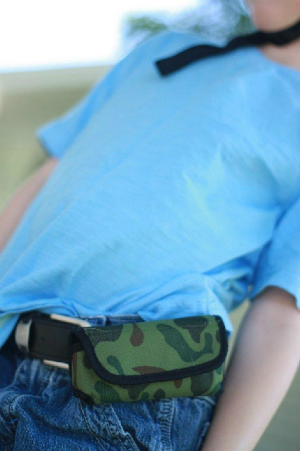 As the population of pump wearers and CGM-users grows, so does the supply of accessories. If you've found something that you/your child loves that we haven't mentioned here, let us know!