DRAGON BITES
carb-counted recipe
A family-friendly, mostly healthy (sometimes treat-y!) easy recipe for families living well with Type 1 Diabetes.
Blue Pearl Cookies
Go Blue for World Diabetes Day!
These soft and chewy cookies are fashioned off of a classic M&M cookie recipe, but use Sixlet® Chocolatey Candies instead. Because Sixlets are perfectly round balls, like pearls, which fits the theme. And because they're made in Canada. And because different colours taste like different flavours, which is fun.
Just like the best M&M cookies recipes, these cookies are crisp on the outside, soft on the inside and burst with blue for World Diabetes Day. Or use the same recipe but swap out the colours to match the season: Christmas, Valentine's Day, St. Patrick's Day, Spring/Easter, Mother's Day, Pride Month, Canada Day, 4th of July, Hallowe'en…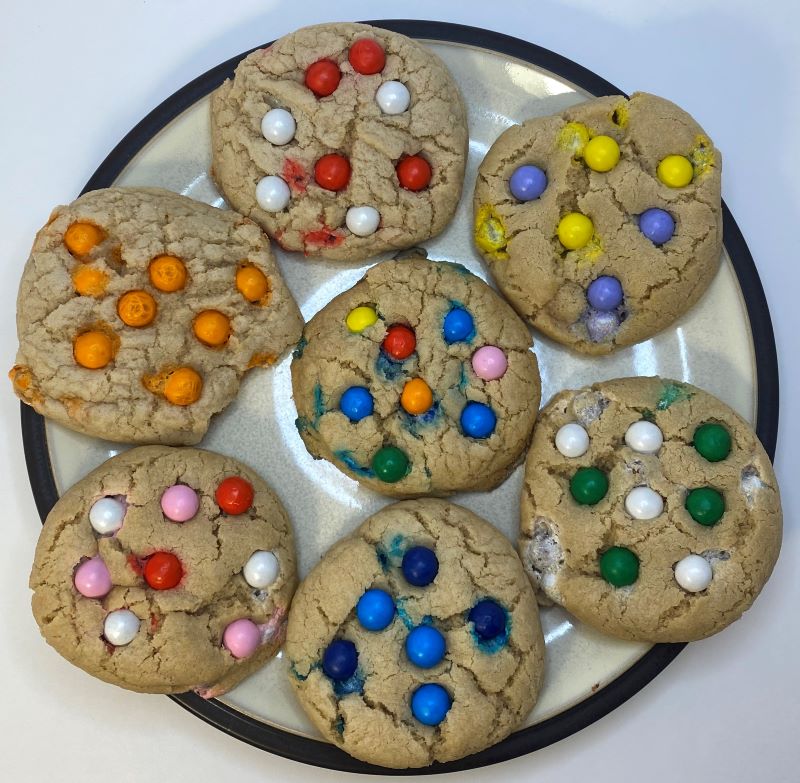 Subscribe to our monthly digital newsletter, Dragon News, and we'll let you know when a new carb-counted recipe is out, plus article highlights, community news, and more tips on living well with type 1 diabetes.
Low-Carb? No
Gluten-free? Yes
Dairy-free? No (Sixlets contain milk chocolate)
Nut-free? Yes
Active Time: ~30 min
Bake: 8-18 min
Cool: 10-15 min
Ready in: 50-60 min
Total Yield: 14 large cookies
Carb Content: 36g of carbs in each cookie  (when made as indicated, with Sixlets candies)
Note that high fat food can lead to high blood sugar later that is resistant to correction – you may need to cover the fat content in this dish with extra insulin, especially if you do not regularly eat foods high in fat. For more information on this, check out How Fat Affects Blood Glucose?
1 ½ cups (260g)  gluten-free flour1 (or all-purpose wheat flour if GF isn't needed)
1 tsp  baking powder
½ tsp  baking soda
¼ tsp  salt
½ cup (115g)  unsalted butter2 (softened, but still cool)
½ cup (96g)  granulated sugar3
1/3 cup (60g)  brown sugar4 (soft and fresh to make the cookies chewy)
1  large egg5
2 tsp  pure vanilla extract
1 cup (190g)  candy-coated chocolates6 (like Sixlets® Chocolatey Candies, M&M® candies, or (Canadian) Smarties®
Notes:
1. 210g carbs; 0g fat for Robin Hood All-Purpose Gluten-free Flour Blend
2. 0g carbs; 92g fat for Dairyland Butter
Leave the butter out of the fridge for a while to soften it, even overnight. But make sure it's still cool to the touch when you're ready to mix it - if your butter is too soft, the cookies will spread too much and you'll end up with cookie puddles.
3. 96g carbs; 0g fat for sugar
4. 60g carbs; 0g fat for Demerra brown sugar
5. 1g carbs; 5g fat for an egg
6. 139g carbs; 38g fat for Sixlets® Chocolatey Candies, which are gluten-free, made in Canada, and available all year round in whatever seasonal colour you want. (I found them at Party City.)
Sixlets and M&M's are both GF, while Smarties contain wheat. The candy called "Smarties" in Canada are like flatter M&M's, but are NOT like the candy called "Smarties" in the U.S., which in Canada we call "Rockets." Confused yet??!! All you really need to know is to use candy-coated chocolate for this recipe. 🙂
M&M's are also gluten-free, and you can order a bag in the colour you want (from Amazon) or buy a bag of in-season colours at certain times of the year (spring colours in March/April; Red & Green for Christmas in Nov/Dec).
1.
Preheat oven to 350°F. Line two baking sheets with parchment paper, or silicone baking mats.
I used Reynold's parchment paper – it's non-stick AND compostable!
2.
Measure flour by fluffing it several times with your measuring cup to lighten it, then scoop a heaping portion and level it off with the back of a knife. Add flour to a bowl (not your mixing bowl), whisking together with baking powder, baking soda and salt. Set aside for a moment.
Scooping directly from the bag without fluffing compacts the flour, resulting in dry cookies.
3.
Using a mixer, beat butter and both sugars for 1-2 minutes. Add egg and vanilla extract, mixing until light and fluffy, scraping the sides of the bowl as needed. On low speed add in flour mixture and mix until combined.
4.
To the cookie dough, add ~3/4 cup of Sixlets candies and, using a rubber spatula (or your hands), gently stir to combine.
(The remaining ¼ cup of Sixlets will be pressed into the top of the cookies to help your cookies show their bold and beautiful colours!)
5.
Scoop balls of dough about 3-tablespoons large. Drop the dough onto the lined cookie sheet, forming mounds. Leave about 2 inches between.
I used an Oxo Good Grips Large Cookie Scoop, which is a size 20 portioner and holds 3 tbsp of dough. But the actual size of the scoop is less important than ensuring that they are a uniform size, both for even baking and easy carb-counting.
6.
For a soft cookie: Bake for 10-12 minutes, until the edges of the cookies are set but the centre is still slightly under-done. Then grab those remaining Sixlets candies that you set aside in Step 4; nestle several (5-6 pieces) onto the top of each cookie. Bake an additional 3 minutes.
Don't wait until they look "done" before taking them out of the oven - they will continue to cook as they sit for cooling. being slightly under-done is what makes them soft and chewy.
For a crispier cookie: Continue baking for another couple of minutes (total of 15-18 minutes).
For smaller dough portions (1 ½ tbsp in each cookie): Bake for a shorter period of time (total of 8-11 minutes).
7.
For perfectly round cookies, as soon as the cookies come out of the oven (while they are hot and still on the warm baking sheet): Place a round glass or bowl (bigger than the cookie) upside down over the cookie. Gently swirl the glass in a circular motion so that the edges of the cookie bounce against the inside of the glass, creating a perfectly round shape. Alternatively, you could use a large, round cookie cutter in the same way.
8.
Allow the cookies to cool completely.
Then enjoy a cookie with ice cream or milk as you celebrate what an awesome Dragon Tamer you are!
Store in a covered container up to 3 days. Freeze in an air-tight container for up to 3 months.
(This recipe was adapted from CelebratingSweets.com. Check out their website for many other yummy recipes!)
I experimented with Sixlets candy-coated chocolates for all the reasons I said in the opener. And I'm happy with the result. 🙂 BUT… they are a bit harder to work with than M&M's. Sixlets melt quicker than M&M's, so my first batch of cookies melted and bubbled and looked terrible. This is why the top candies are only in the oven for 3 minutes. If you use M&M's, you can add the extras to each mound of dough before baking, and then you don't need to pause in the last 3 minutes. ~Michelle
Total carbs: 506g
Total fat: 135g
Total yield (number of cookies): 14
Nutrient Content per piece: Each cookie contains 36g carbs and 9.6g fat.
This is not enough fat for my 15-year-old son to add additional insulin to cover the fat. It may or may not be enough fat for your T1D to need extra insulin. If, after eating these cookies, you consistently see a glucose pattern that indicates the effects of high fat food, then you may consider extra insulin for fat ~Michelle
Please don't rely exclusively on my carb counting! Nutritional information is given for general information only, and will vary depending on the amount, type and brand of ingredients you choose - Please verify your carb and fat content when you make your own version of this recipe.