DRAGON BITES
carb-counted recipe
A family-friendly, mostly healthy (sometimes treat-y!) simple recipe for families living well with type 1 diabetes.
Blueberry-Maple. Chocolate-Raspberry.
Dream up your favourite!
Before my sister-in-law made me a batch of chia pudding (thanks, Julia!) it seemed foreign and inaccessible to me. But once I tasted it and learned how healthy it is, it quickly became my go-to breakfast or mid-afternoon snack. It's easy to make the night before for a quick breakfast in the morning, and you can make enough for a few days in one batch, saving time and effort while still eating a highly nutritious breakfast that doesn't leave you hungry later. So if you're a little nervous about chia pudding… check out the shopping and prep tips below and give it a try!
Low-Carb? Yes (The very high fibre content of chia seeds means the available carbs are significantly reduced, as is the effect on blood sugar. For example, ¼ cup of chia seeds has 13g of carbs, but ONLY 2g of available carbs, as it also contains 11g of fibre!)
Gluten-free? Yes
Dairy-free? Yes
Nut-free? Yes (if you use Coconut Milk or other nut-free milk alternative; NOT nut-free if you use Almond Milk!)
Active Time: 5 min
Ready in: 2 hours or overnight
Carb Content: ~7g carbs/cup, or a Carb Factor of 0.03.

Chia is a whole, unrefined superfood. One of the highest plant-based sources of complete protein (it contains all essential amino acids required by the body for peak performance), chia seeds are high in good fats, provide a steady source of energy, help you feel fuller longer, are very high in antioxidants and are rich in omega-3 fatty acids (which are anti-inflammatory and great for heart health). This fibre-rich, gluten-free, dairy-free, nut-free seed forms a gel-like coating when soaked in liquid, which aids in the repair of the gut lining. Chia pudding fits beautifully into a low-carb diet and is highly customisable to your individual taste, making it a great twist on the oatmeal breakfast concept. But even if, like our family, you don't strive to eat low carb… chia pudding is yummy!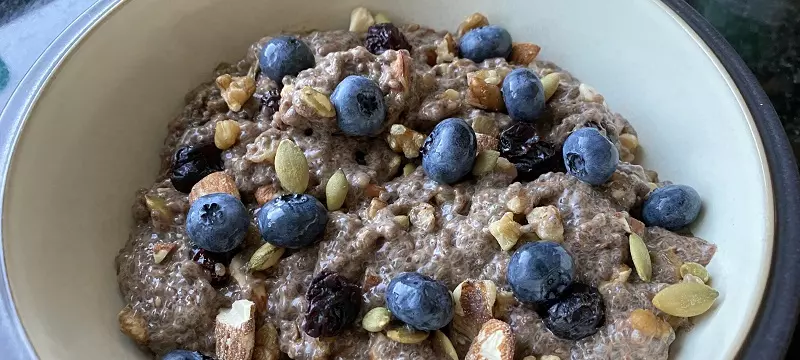 Chocolate Raspberry Chia Pudding:
¼ cup Chia Seeds (3g available carbs - I used Kirkland Organic Chia Seeds, from Costco – around $8 for a 907g bag)
1 cup Coconut Milk (5g carbs – I used Coconut Dream Original) OR Almond Milk (1 to 4g carbs)
1 tbsp Cacao powder (2g carbs minus 2g fibre = 0g net carbs - I used Ecoideas® Organic Cacao Powder. You can also use Fry's Premium Cocoa which is more readily available.)
1/3 cup fresh or frozen Raspberries (2 g carbs - I used PC Organics frozen Whole Red Raspberries) 
Blueberry Maple Cinnamon Chia Pudding:
¼ cup Chia Seeds (2.7g available carbs)
1 cup Almond Milk (1g carbs - I used Blue Diamond Almond Breeze Unsweetened Vanilla; Almond Dream Enriched Original has 4g carbs) OR Coconut Milk (5g carbs)
½ tsp Cinnamon (0g carbs)
¼ cup fresh or frozen Blueberries (3.3g carbs - I used PC Organics Wild Canadian Blueberries from Superstore)
1 tbsp Maple Syrup (2.3g carbs IF YOU USE E.D. Smith Syrup Sweetened with Sucralose like I did. Adjust carb total for genuine maple syrup.)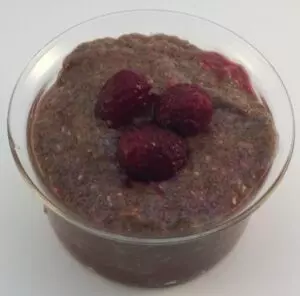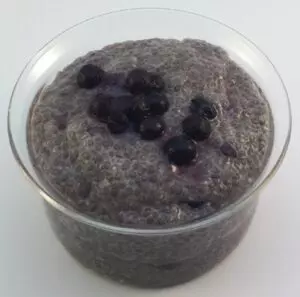 You can double or triple this recipe easily according to your needs. The key is to use a 4:1 ratio (chia seeds: liquid). So if you use a 1/4 cup of chia seeds, add 1 cup of almond milk; this is a single serving for me. If you use 2/3 cup of chia seeds, use the same measuring cup four times to add the milk (for 2 & 2/3 cup of milk); this covers breakfast for the next three mornings for me.   ~Michelle
So easy! For any chia pudding creation:
Place the chia seeds, cacao powder, syrup, or other flavouring, and "milk" in a small bowl and stir to combine.
Let stand 10 mins, then stir again.
Cover and let stand overnight (or for a minimum of 1-2 hours to allow the chia seeds to soak up the liquid).
When you're ready to eat it: add any additional nuts and seeds as desired (pumpkin seeds, walnuts, almond slivers, pecans, etc), top with fruit… and enjoy!
Chia seed pudding keeps for up to 5 days in the fridge.

My favourite combo is chocolate chia pudding + walnuts + pumpkin seeds + dried blueberries + fresh fruit.
First, I put 1/2 cup of chia seeds in a 4-cup glass bowl (one that has a snug-fitting lid). This gives me enough room for stirring, and the lid makes for easy storage of the extra chia pudding. Then I add a generous scoop of cacao powder (2-3 tbsp) and stir these dry ingredients together - I find this makes it easier to combine the cacao powder with the wet ingredients in the next step. Then I add 1 cup of almond milk (half of the total 2 cups required) and whisk the mixture until completely combined, scraping the side of the bowl to incorporate all the seeds and powder. I add the rest of the almond milk (1 cup) as I stir. Then I let it stand for 5-10 minutes, and then stir it again. (If you skip this last step, the chia pudding may be lumpy, especially if you prepare it the night before, as the wet and dry ingredients don't combine well.) After stirring this last time, if I'm making the chia pudding to eat soon I will let it stand on the counter for about an hour. If I'm making it to eat the next morning, I cover it and place it in the fridge overnight.
When I'm ready to eat, I use half of the chia pudding (the rest I put in the fridge for tomorrow) and add a sprinkle of walnuts, pumpkin seeds, dried blueberries and stir them in. Then I add on top whatever fresh fruit I have on hand - strawberries, blackberries and nectarines are my favourites. I only add the nuts, seeds and fruit just before I eat (or the nuts and seeds get soggy and the fruit gets mushy if left in the pudding overnight.)
~ Michelle
What's your favourite chia pudding combo?
Send me a message – I'd be happy to add other ideas to this page!
Chocolate Raspberry Chia Pudding:
Total Carbs: 10g
Total yield by volume: 1-1/3 cups of chia pudding (7.5g carbs per cup)
Total yield by weight: 305g weight of chia pudding (for a carb factor, by weight, of 0.03)
Blueberry Maple Cinnamon Chia Pudding:
Total Carbs: 9.3g
Total yield by volume: 1-1/3 cups of chia pudding (7.0g carbs per cup)
Total yield by weight: 305g weight of chia pudding (for a carb factor, by weight, of 0.03)

Please don't rely exclusively on my carb counting! Nutritional information is given for general information only, and will vary depending on the amount, type and brand of ingredients you choose - Please verify your carb and fat content when you make your own version of this recipe.