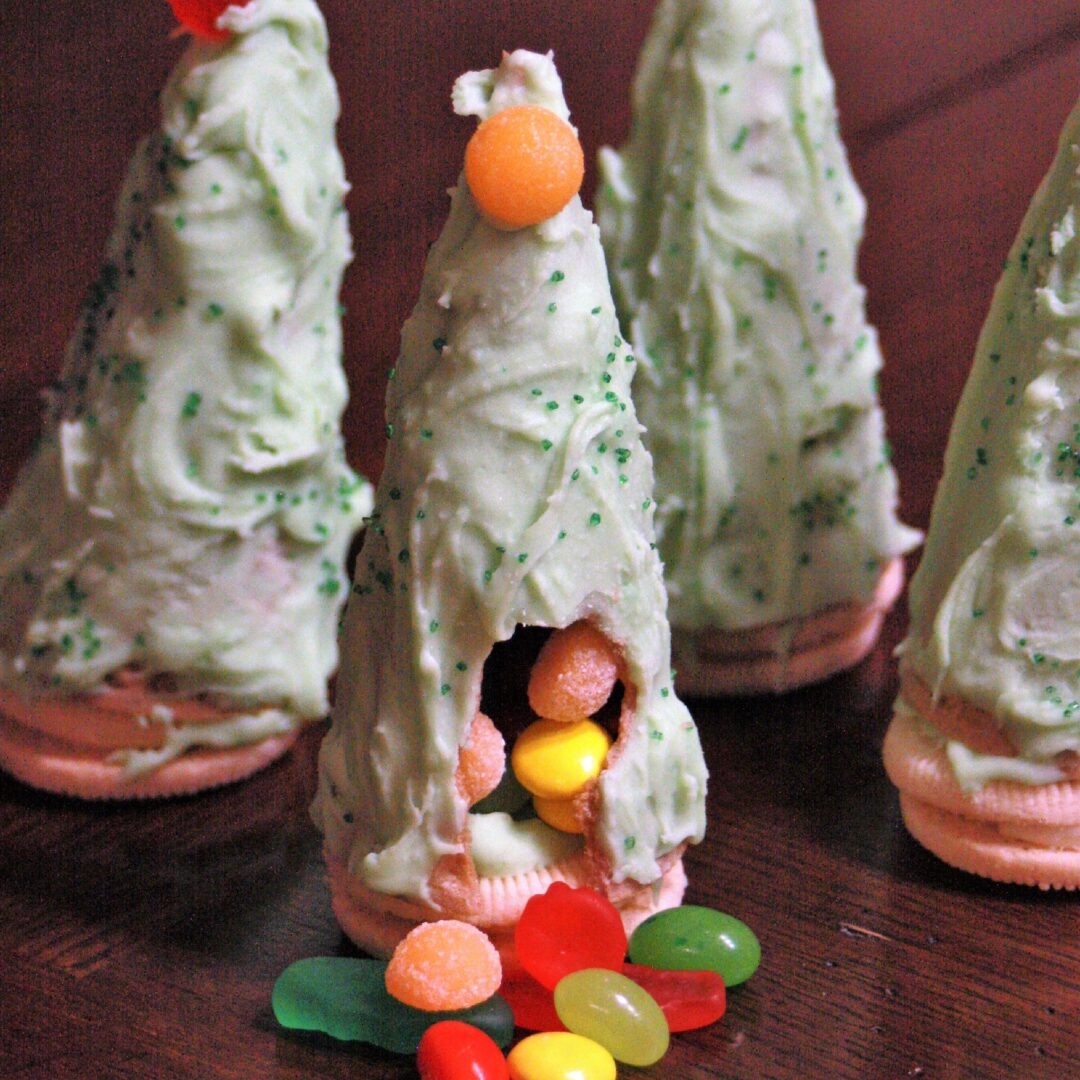 DRAGON BITES
carb-counted recipe
A family-friendly, mostly healthy (sometimes treat-y!) easy recipe for families living well with Type 1 Diabetes.
Christmas Tree Pinatas
Half of the fun is breaking them open to find the surprise inside!
These easy, gluten-free, nut-free Christmas trees remind me of edible Christmas crackers, in the spirit of Kinder-Surprise! They come together quickly with no baking (just a little melting involved) for a fun, family-time holiday project for kids and parents. Or make them in advance to surprise your kids with the contents. Fill them with candies, nuts, cereal or a small trinket for a unique, homemade gift… give one to a friend… use as stocking stuffers for the whole family… or decorate your table with them for your family celebration. 
Subscribe to our monthly digital newsletter, Dragon News, and we'll let you know when a new carb-counted recipe is out, plus article highlights, community news, and more tips on living well with type 1 diabetes.
Low-Carb? No
Gluten-free? Yes
Dairy-free? No (unless you use dairy-free white chocolate chips)
Nut-free? Yes (unless you fill the cone with nuts)
Active Time: 30 mins for 3
Bake: 0
Set: 1-2 hours
Ready in: 1 1/2 to 2 1/2 hours
Total Yield: 3 Christmas Trees
Carb Content: 61g per tree
3 Gluten-free Ice Cream Cones (I used Edward & Sons "Let's Do Gluten Free" Sugar Cones) [13g carbs each] 
3 Round, Gluten-free Cookies the same size as the top of the cone (You can use your favourite home-made cookie, but I went the easy route and used Kinnikinnick Kinni-Toos Vanilla Sandwich Crème Cookies – they're gluten-free, dairy-free, soy-free, peanut- and tree nut free)  [9g carbs each]
½ cup White Chocolate Chips, melted [55g carbs for all 3 cones] (I used Hershey's Chipits White Chocolate Chips but you can use a dairy-free white chocolate if you prefer.)
Green Food Colouring [0g carbs]
Green sprinkles/sugar crystals, optional [3g carbs for all 3 trees]
Variety of small toys, GF candy /cereal, nuts [~60g carbs for all 3 trees...or more...or less]
Note: Ingredients are given here for the gluten free version, but feel free to substitute for regular cookies and sugar cones.
1.
Melt white chocolate chips in the microwave in 30 sec increments, or according to package instructions. Stir in the green food colouring until evenly mixed.
2.
Gently coat each cone with the green chocolate using the back of a spoon, being careful not to break the cone.
3.
While still wet, dust with green sprinkles or sugar crystals. Top with a round or star-shaped candy.
4.
Place on a parchment-paper-lined baking sheet; freeze until set.
5.
Fill each cone with candy, nuts, small toys or trinkets.
6.
Spread white chocolate around the edge of each cookie; place a cookie on top of the filled cones.
7.
Flip the cone over so the cookie is on the bottom of the "tree" and allow to set.
8.
When it's time to celebrate… Break open the "piñata" and enjoy!
My sample as outlined above makes 3 Christmas trees with 61g of carbs each.
(That's 22g carbs for the cone and cookie + 19g carbs for the white chocolate and sprinkles + 20g carbs for the candy inside.)
Note: You can reduce the carb-count, if desired, by:
Decorating the plain cone with dabs of chocolate using an icing bag and decorator tip (instead of coating the surface with chocolate).
Filling the inside with nuts or small toys/trinkets, instead of candy.
Recipe adapted from Gluten Free Living
Please don't rely exclusively on my carb counting! Nutritional information is given for general information only, and will vary depending on the amount, type and brand of ingredients you choose - Please verify your carb and fat content when you make your own version of this recipe.