DRAGON BITES
carb-counted recipe
A family-friendly, mostly healthy (sometimes treat-y!) easy recipe for families living well with Type 1 Diabetes.
School Snack Re-Boot?
When you're starting into the school year home stretch and have hit the wall in terms of school lunch ideas... when you're looking for healthy, quick & easy, peanut-free, yummy and (sometimes) low carb… well, that's a tall order! But these Sweet Pepper Cups with Cream Cheese and Bacon check all the boxes – and have become Max and Gemma's favourite! Whether your school year is winding down or starting up (Hi, Australia!) it's a good time to try something new for school snacks and lunches.
Subscribe to our monthly digital newsletter, Dragon News, and we'll let you know when a new carb-counted recipe is out, plus article highlights, community news, and more tips on living well with type 1 diabetes.
Low-Carb? Yes
Gluten-free? Yes
Dairy-free? No
Nut-free? Yes
1 medium sweet bell pepper (red, orange or yellow) (about 6g carbs, 0g fat)
4 tbsp cream cheese (4g carbs; 20g fat in Island Farms Natrel Cream Cheese)
2 tbsp crumbled bacon (0g carbs; 3g fat in Hormel Real Bacon, Crumbled)
1.
Cut the sweet pepper in half, lengthwise. Remove the stem and seeds.
2.
Spread a layer of cream cheese (approximately 2 tbsp) on the inside of each pepper "cup".
3.
Sprinkle crumbled bacon (approximately 1 tbsp) over the cream cheese in each cup.
We have found that this snack travels best in a re-usable container that is slightly smaller than the width of the pepper, so that once you wedge it in, it won't flip over or toss about in the container.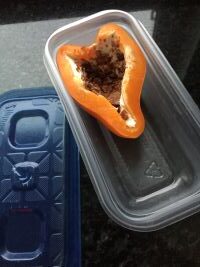 Yield: 2 sweet pepper snacks with 5g of carbs and 11.5g of fat each.
You can easily multiply this recipe for a higher yield. The carb and fat content for each half will remain the same.
Please don't rely exclusively on my carb counting! Nutritional information is given for general information only, and will vary depending on the amount, type and brand of ingredients you choose - Please verify your carb and fat content when you make your own version of this recipe.