DRAGON BITES
carb-counted recipe
A family-friendly, mostly healthy (sometimes treat-y!) easy recipe for families living well with Type 1 Diabetes.
Valentine's Day screams sweet treats… but if you're looking for a savoury alternative for your celebration of L-O-V-E, then give these Cheese Crackers a try! With only 5 ingredients (that you probably already have on hand), these bite-sized cheesy treats present a healthy, convenient, and preservative-free alternative to commercially-made crackers. Make them to show your love any day of the year!
I have to tell you that I am NOT a baker. So if I can make this recipe, then you can, too! ~Michelle
Subscribe to our monthly digital newsletter, Dragon News, and we'll let you know when a new carb-counted recipe is out, plus article highlights, community news, and more tips on living well with type 1 diabetes.
Low-Carb? No.
Gluten-free? Yes, if you use GF flour as indicated below. (I did!) 
Dairy-free? No
Nut-free? Yes
Prep: 20-30 min (+ chill 30 mins)
Cook: 12-15 min
Ready in: 1 hr: 15 min
Carb Content per small cracker: ~2g carbs each.
Fat Content per small cracker: Just over 1g fat each.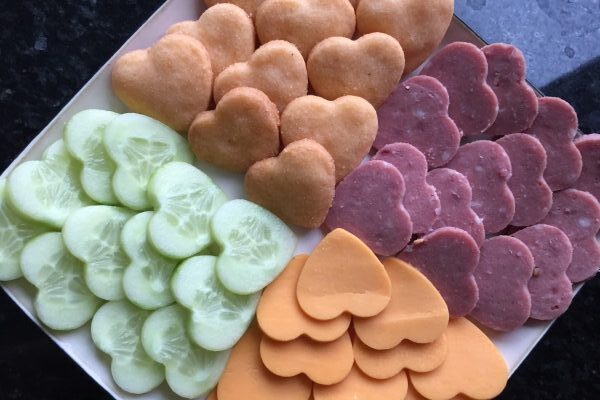 ½ cup salted butter, softened (0g carbs; 96g fat)
350g cheddar cheese, grated (12g carbs; 75g fat)
optional: 1 tsp salt (only if you use unsalted butter)
½ tsp black pepper
400g (~2 ½  cups) Gluten-Free All-Purpose Flour Blend (I used Robin Hood) (323g carbs; 0g fat)  OR All-purpose wheat flour, if gluten isn't a concern
2 tbsp water (up to 4 tbsp water, as needed)
1.
Beat together softened butter and cheese with an electric mixer. It will come together to form a soft dough of uniform color.
2.
Once the butter and cheese have been completely combined, add the pepper (and salt, if you used unsalted butter).
3.
Add the flour a few tablespoons at a time while mixing at a slow speed. The dough will become crumbly. After the flour is fully incorporated…
4.
Add the water one tablespoon at a time until a pie crust like dough forms, it should not be crumbly but should not be wet.
5.
Refrigerate the dough in a sealed container (or plastic wrap) and chill for 30 minutes.
6.
Preheat the oven to 350 degrees.
7.
Divide dough into three balls. Use a rolling pin, roll one ball on a lightly floured surface until it is 1/8 inch thick.
Newbie Notes:
I found the dough easier to work with if I left the extra balls of dough in the fridge while I rolled out the one at hand.)
With an 1/8" thickness, the crackers keep their shape better. On a batch that I rolled a little thicker (closer to 1/4") they looked more like circles than hearts!
8.
Use a knife to cut the dough into squares or a small cookie cutter to make hearts. (I used a 3.5cm wide heart cookie cutter.) Place the crackers close together on a parchment lined baking sheet. Continue to roll and cut the dough until all the crackers are prepared.
9.
Bake the crackers for 12 to 15 minutes until they are bubbled up, golden brown, and dry to the touch.
10.
Remove pans from oven and allow crackers to cool to room temperature before serving.
You can store the crackers in your refrigerator in an airtight container for 6-10 days.
SERVING SUGGESTION:
Cut cucumbers, cheese and summer sausage into hearts using the same cookie cutter...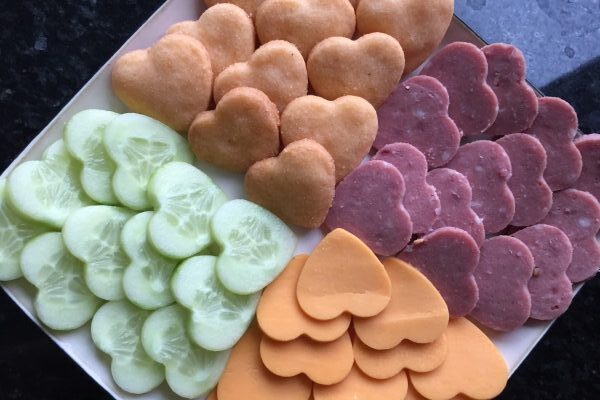 Total carbs: 335 g
Total fat: 171 g
Total yield: 162 small crackers (usng a 3.5cm wide, heart-shaped cookie cutter)
Carb Content per small cracker: ~2 g
Fat Content per small cracker: ~1 g
Please don't rely exclusively on my carb counting! Nutritional information is given for general information only, and will vary depending on the amount, type and brand of ingredients you choose - Please verify your carb and fat content when you make your own version of this recipe.