DRAGON BITES
carb-counted recipe
A family-friendly, mostly healthy (sometimes treat-y!) simple recipe for families living well with type 1 diabetes.
Easy School Lunch Item & On-the-Go Breakfast
It's that time again...
Time to get up and go back to school with a quick and healthy breakfast on board. Time to generate ideas for nutritious and easy-to-make school lunch items that our kids will actually eat. Well, here's a Dragon Bites Recipe that fits both needs! You can make-ahead and freeze these Mini Frittatas, filling them with all your child's favourite ingredients, then heat and serve for a quick breakfast or school lunch.
Tapping into the food-expertise of Julia MacPhee, Holistic Nutritional Consultant, we give you the breakdown on some key ingredients that pack a nutritional punch, and are especially suited to prepare your child for the demands of the school day:
Eggs contain Choline, a precursor for neurotransmitter Acetylcholine, which is needed for proper cognitive and nervous system function. This makes eggs a great start for a busy day at school or at work! Eggs are also a complete protein: they contain all 9 essential amino acids which your body needs and can only get from food. Protein also keeps you fuller for longer so you don't find yourself reaching for a snack later.
Coconut oil is a plant-based medium chain triglyceride (MCT) which absorbs easily and directly into intestinal lining and is not stored, but is used up by the body for energy. Coconut oil is also a source of caprylic and lauric acids known for their antimicrobial and antifungal properties – a good way to get us through cold and flu season and to support healthy gut flora.
Spinach is a nutritional bonanza: a rich source of Iron needed for formation of hemoglobin, the essential oxygen-carrying molecule that aids in energy production. Spinach is also full of phytochemicals and antioxidants to fight daily stressors, plus one cup of spinach contains 180% of our daily need for Vitamin K, which plays a critical role in blood clotting and in bone health (aiding the absorption of calcium into the bones).
Tomatoes are a source of vitamin C needed for proper absorption of Iron from spinach.
Low-Carb? Yes
Gluten-free? Yes
Dairy-free? Yes, if you opt out of the cheddar suggestion.
Nut-free? Yes
Active Time: 20 mins
Cook/Bake: 18-20 min
Ready in: 45 mins
Carb Content: less than 1g* of carbs for each mini frittata (~4g* of carbs for each regular-muffin-size frittata)
*if made with ingredients exactly as outlined below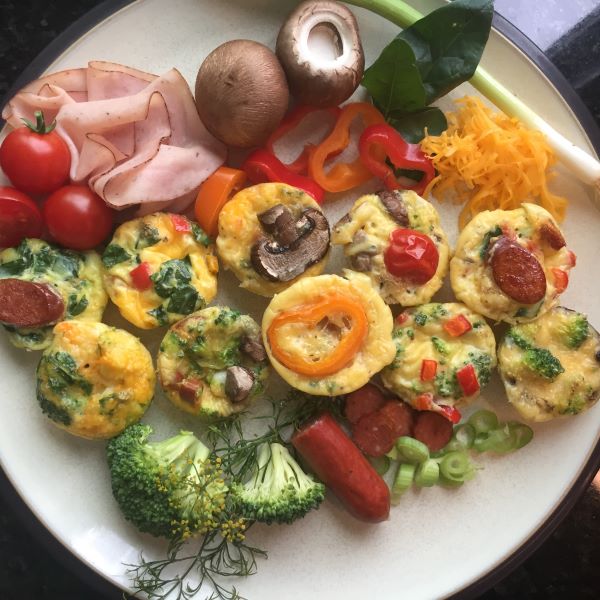 3 tbsp Coconut Oil (or Extra Virgin Olive Oil) (0g of carbs; 42g of fat for Coconut Oil)
6 large Free-Range Eggs (6g of carbs; 30g of fat)
1 tsp garlic powder
Salt and Pepper, to taste
plus Your Choice of the Following:
6 slices Deli Ham, cut into ribbons (less than 1g of carbs; 2g of fat)
4 Mini Pepperoni Sticks (or 1 regular stick), sliced (0g of carbs; 18g of fat)
4 Fresh Mushrooms, sliced (4g of carbs)
½ cup Fresh Spinach, finely chopped (less than 1g of carbs)
½ cup Fresh Broccoli, finely chopped (2g of carbs)
4 mini sweet peppers, sliced crosswise (4g of carbs)
1 green onion (or chives), sliced
¼ cup Sweet Onion, finely chopped (3g of carbs)
6 Fresh Cherry Tomatoes, cut in half (1.5g of carbs)
½ cup finely grated Cheddar Cheese (2g of carbs; 24g of fat)
Pre-heat oven to 350° F.
Use 2 tbsp of Coconut oil or Olive Oil to grease well a 24-mini-muffin tin (or 6-regular-muffin tin). Consider using muffin tin liners for easy cleanup.
Whisk eggs, garlic powder, salt, pepper, and (optional) 1 tbsp of coconut oil until blended.
Place finely chopped veggies and meats (chosen from "Your Choice" above, or from your own favourites) into each muffin-tin "cradle", filling about half of the space. Make all of them the same, or mix and match!
Pour equal amounts of egg mixture (~2 tbsp per mini) into each cradle, over the omelette ingredients.
Top with cheese, if desired. You could also top with a slice of mushroom, pepper, pepperoni, tomato, etc (on the corresponding frittata), for easy identification later.
Place on a cookie sheet in the oven. Bake for 18-20 mins, or until egg is completely set.
Cool, then use a spoon (if necessary) to scoop the mini omelettes out of the muffin tin.
Enjoy now or refrigerate/freeze for later.
Tip #1:  Make in large batches and freeze. Then simply take some out and microwave for a quick breakfast, or heat and store in an insulated container to send to school (or take to work!) for lunch.
Tip #2: Consider a cauliflower crust. Cauliflower, a versatile cruciferous vegetable, adds plenty of insoluble fibre to your meal, which helps keep your insides clean and tidy. (Imagine a broom that sweeps the unwanted debris down your intestinal tract.) Don't be deterred by the lack of color; although cauliflower is not as high in chlorophyll as other vegetables it offers compounds such as indoles that stimulate body detoxification and support healthy liver function.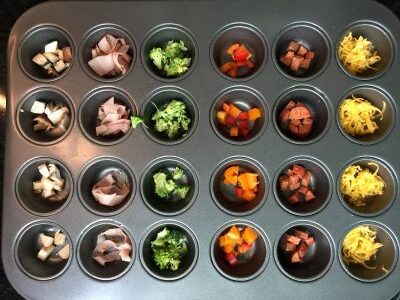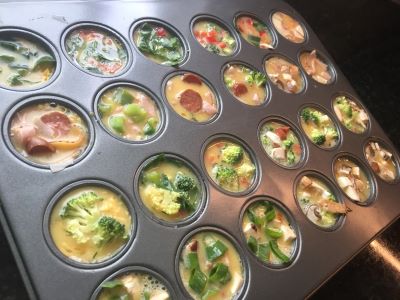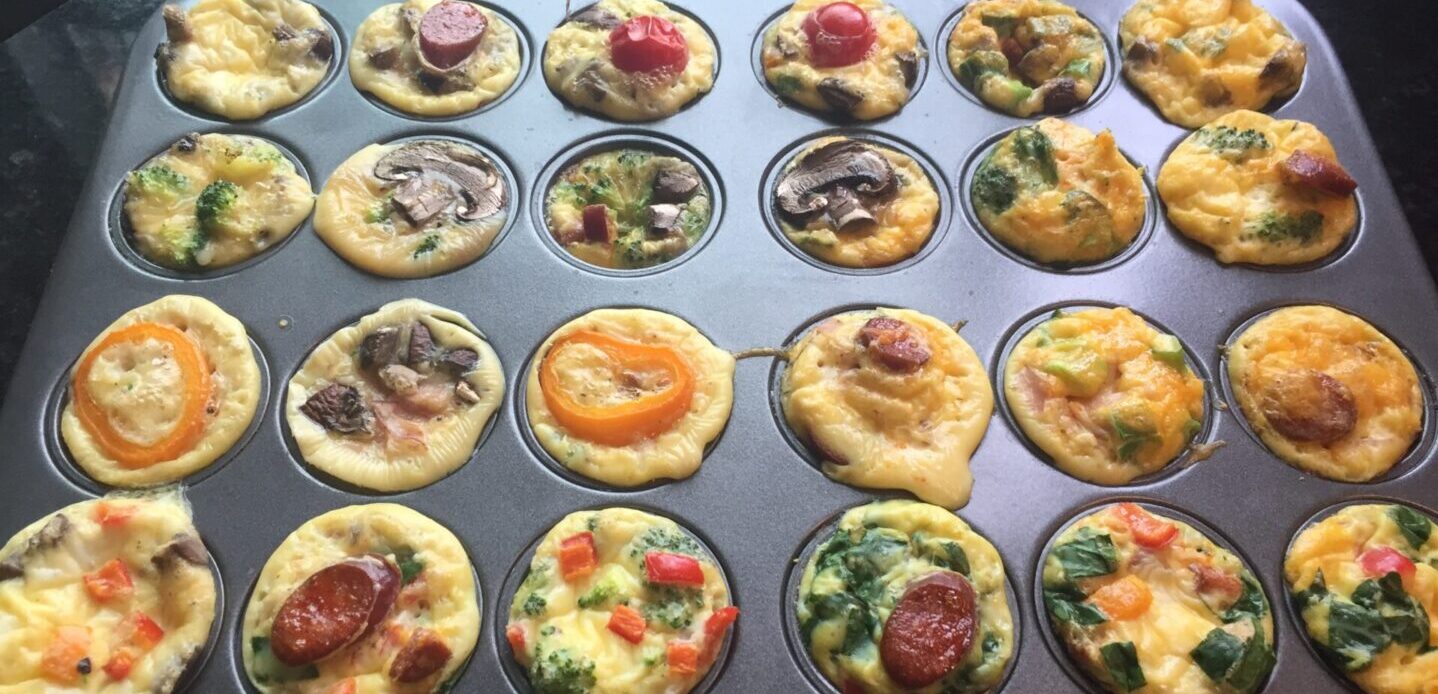 Total carbs: 21g
Total fat: 116g
Total yield: 24 mini frittatas (or 6 regular-size frittatas)
Carb Content per mini frittata: less than 1g
Fat Content per mini frittata: 4.8g
Carb Content per regular-size frittata: ~4g
Fat Content per regular-size frittata: 19g
(if made with all of the ingredients listed above, in those exact quantities)
Please don't rely exclusively on my carb counting! Nutritional information is given for general information only, and will vary depending on the amount, type and brand of ingredients you choose - Please verify your carb and fat content when you make your own version of this recipe.