DRAGON BITES
carb-counted recipe
A family-friendly, mostly healthy (sometimes treat-y!) easy recipe for families living well with Type 1 Diabetes.
A minty twist on the classic rice krispies treat, these adorable, tasty monsters come stomping into your spooky celebration… just in time for Halloween!
Subscribe to our monthly digital newsletter, Dragon News, and we'll let you know when a new carb-counted recipe is out, plus article highlights, community news, and more tips on living well with type 1 diabetes.
Low-Carb? Not even close.
Gluten-free? Yes (if you use Gluten-Free brown rice Rice Krispies, the ones in the yellow box)
Dairy-free? Yes
Nut-free? Yes
Active Time: 40 mins
Cool: 25-30 mins for bars; 2+ hours for chocolate
Ready in: ~3 hours
Total Yield: 16 bars
Carb Content: 28g of carbs for each monster bar
3 tbsp. salted butter
4 ½ cups (200g weight) mini white marshmallows (160g of carbs)
½ tsp. peppermint extract (optional)
Green food coloring
6 cups (192g weight) Rice Krispies GF brown rice cereal (156g of carbs)
1 cup (180g) dark-chocolate baking chunks or chips, melted (108g of carbs)
1.
Coat a 13×9-inch baking pan with cooking spray. (Or line with tin foil for an easy-out.)
2.
Melt butter in a large saucepan over low heat.
3.
Reserve 32 miniature marshmallows. Add remaining marshmallows to melted butter; cook, stirring constantly, until marshmallows are completely melted and well blended, about 6 minutes. Remove from heat.
4.
Add peppermint extract (omit if you want non-minty monsters) and a fair bit of green food colouring; stir until well blended.
5.
Add cereal; stir until evenly coated. Press mixture firmly onto bottom of prepared pan, making sure to press into the corners of the pan. Let cool completely, about 25 minutes.
6.
Remove cereal mixture from pan to a cutting board. Cut into 16 rectangles or squares.
7.
Dip 1 end of each bar into melted chocolate, and place on waxed paper. Let stand until completely dry, about 2 hours. (To speed cooling, you could pop them into the fridge.)
8.
Cut reserved 32 miniature marshmallows in half with a sharp knife or scissors.
9.
Transfer remaining melted chocolate to a decorating bag fitted with a No. 2 tip (or a Ziploc bag with a teeny tiny hole cut in one corner). Attach mini marshmallow halves to the front and each side of the bars for "eyes" and "neck bolts" with a dot of melted chocolate. Pipe a dot of chocolate on each eye; pipe a long straight line between two vertical short lines for the mouth.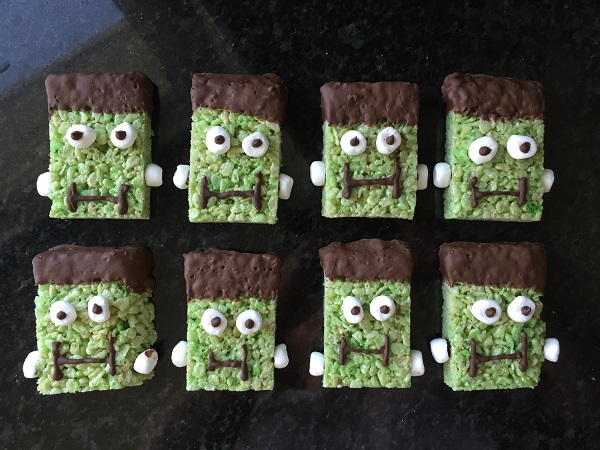 (Recipe from Rosanna Pansino, the creator of YouTube's Nerdy Nummies, adapted from its appearance in People magazine, October 2016.)
Total yield: 16 Frankies
Carb Content: 28g of carbs for each monster bar
Please don't rely exclusively on my carb counting! Nutritional information is given for general information only, and will vary depending on the amount, type and brand of ingredients you choose - Please verify your carb and fat content when you make your own version of this recipe.