DRAGON BITES
carb-counted recipe
A family-friendly, mostly healthy (sometimes treat-y!) easy recipe for families living well with Type 1 Diabetes.
Springtime Hues. Simple. Fun. All Natural.
To celebrate the Easter season AND spend some QT with your kids... create your own beautiful, naturally-dyed Easter Eggs from award-winning artist and fashion designer Irene Rasetti.
No need to spend money on natural dye kits. You can use things that are easily accessible and are probably lounging in your pantry as we speak. Besides, I believe natural dyes are far prettier than any of those dye kits you will find at your grocery store. Blueberries, beets, onion skins and coffee are just a few of the things you can use to make the loveliest Easter eggs. ~Irene
I agree with Irene... Easter is my favourite time of year! I love to deck out our home with Easter Eggs that my kids have decorated, and these ones create a real feeling of springtime. But what I really appreciate about this recipe is that the dyes are all natural, so you can eat the eggs your family created without worrying about your kids consuming mystery chemicals found in many commercial dye kits. We followed this tutorial last year and were so happy with the result! We'll be using it again this year to make colourful eggs for our family's Easter brunch.
~Michelle
Subscribe to our monthly digital newsletter, Dragon News, and we'll let you know when a new carb-counted recipe is out, plus article highlights, community news, and more tips on living well with type 1 diabetes.
Low-Carb? Yes
Gluten-free? Yes.
Dairy-free? Yes.
Nut-free? Yes.
Active Time: 30 - 60min
Soak for: 30 mins, 3 hours, or overnight... it's up to you.
Ready in: 1 - 12 hours
Total Yield: optional
Carb Content: 1g of carbohydrate for each egg
1 dozen hard boiled eggs (or more!)
1 cup of beets
2 cups of grape juice
1 cup of blueberries
2 cups of brewed coffee
2 tbsp of turmeric
onion skins
5 tbsp white vinegar (1 tbsp for each colour)
You will also need:
water
a pot
some jars or bowls for dividing your colours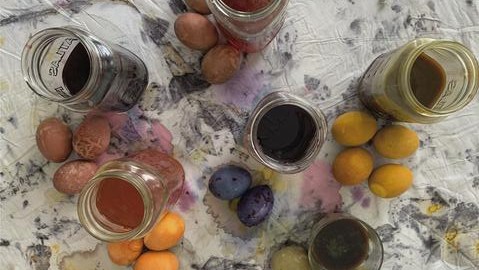 Total yield: 12 beautiful natural-dye Easter Eggs, or more... simply re-use the colour bath for another batch.
Nutrient Content: Each egg contains 1g carbs and 5g of fat. The dye does NOT add any carbs.
Please don't rely exclusively on my carb counting! Nutritional information is given for general information only, and will vary depending on the amount, type and brand of ingredients you choose - Please verify your carb and fat content when you make your own version of this recipe.