DRAGON BITES
carb-counted recipe
A family-friendly, mostly healthy (sometimes treat-y!) easy recipe for families living well with Type 1 Diabetes.
Sort-of-Sous-Vide Poached Eggs in a Pouch
Breakfast in bed for m♥m on Mother's Day
Easy, low carb, optionally gluten-free (as described here) and lots of opportunities for kids of any age to help out… this "sort of sous vide" recipe is fully customizable with all Mom's favourite vegetable and protein ingredients. We walk you step-by-step (with pictures) through a fool-proof method for making perfect soft poached eggs… all dressed!
True sous vide cooking involves an ultra-low temperature water bath and up to 60 minutes to cook an egg. But I don't have that much patience! This "sort of sous vide" method uses a higher temp, which means less time: 10-20 minutes to poach an egg in a pouch.
(Recipe adapted from chef Jamie Oliver)
Subscribe to our monthly digital newsletter, Dragon News, and we'll let you know when a new carb-counted recipe is out, plus article highlights, community news, and more tips on living well with type 1 diabetes.
Low-Carb? Yes
Gluten-free? Yes
Dairy-free? Yes (omit optional cheese)
Nut-free? Yes
Prep Time: 15 minutes
Cook: 10-20 minutes
Ready in: 25-35 minutes
Total Yield: 2 (or more) perfect poached eggs with all the fixings
Carb Content: 1-2 g per pouch
2 eggs1
Spray oil, or a few drops of olive oil
Pre-cooked meat, finely chopped2 – choose from:

1 tbsp fully cooked ham (or try corn meal ham for a treat - pictured)
1 tbsp deli roast beef
1 tbsp deli roast chicken or turkey
1 tbsp bacon bits
1 tbsp pepperoni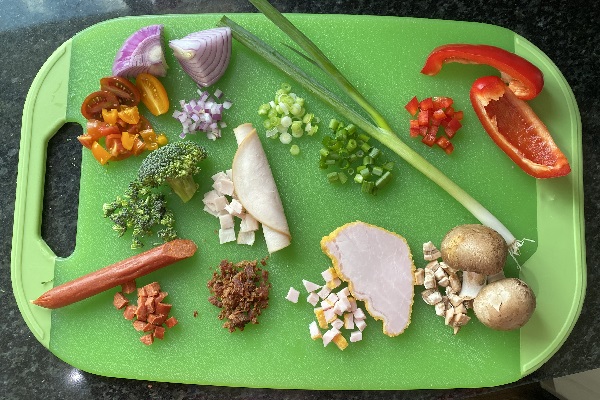 Finely-chopped fresh veggies3 – choose from:

1 tbsp red, sweet or green onions
1 tbsp fresh baby tomato
1 tbsp broccoli
1 medium fresh mushroom
1 tbsp black olives
1 tbsp sweet red pepper
1 tsp hot pepper
1 avocado

handful of baby arugula

(Optional) A sprinkle of grated cheese (we like Marble, but you could use cheddar, mozzarella, gouda, feta...)
2 slices/halves of mom's favourite toast, bun or English muffin4
Cling Wrap (Saran wrap is BPA-free) or Ziploc bag (also BPA-free)
2 Ramekins, mugs or small bowls
Nutritional Notes:
1g carbs; 5g fat per egg
Most meat will have 0 carbs. The fat content will be negligible for this small amount.
One tablespoon of any of these veggies will contain less than 1g of carbs. If you use 4 tbsp in one pouch, count it as 1g of carbs.
11g available carbs (10g of fibre!); 6g fat for 2 slices of Promise Gluten-Free Multigrain Loaf (my favourite)
1.
Place a 12" square of cling wrap over a ramekin, mug or small bowl. Press it down to make a well for the ingredients.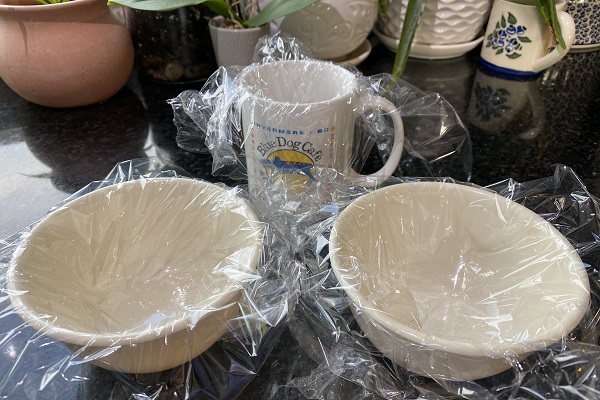 2.
Add a quick spray of oil to the cling wrap (or place a drop or two of oil in the lined bowl and spread it over the cling wrap with your finger or a small brush.) This will make it easier to remove the egg after poaching.
3.
Crack an egg into the lined bowl.
For a scrambled egg variation, whisk the egg before adding to the lined bowl.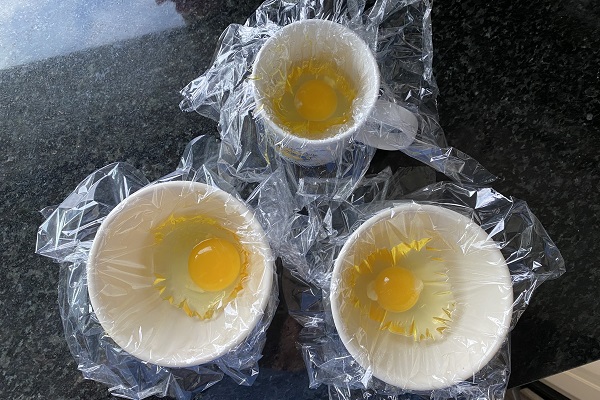 4.
Sprinkle your mom's favourite finely-chopped ingredients into the ramekin with the egg.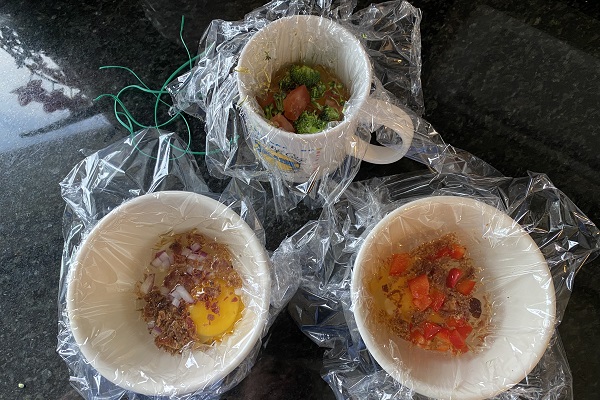 Real bacon bits are a favourite in our house – easy to scoop out of the bag, no chopping or cooking required for kid-independence!
5.
Gather the corners and sides of the cling wrap, pressing out as much air as possible. Then twist the wrap firmly just above the egg + fillings, and tie the cling wrap into a knot, or secure with a long twist tie. (This will be your "handle" to remove the pouch from the hot water.)
Set aside.
Repeat with as many eggs as desired.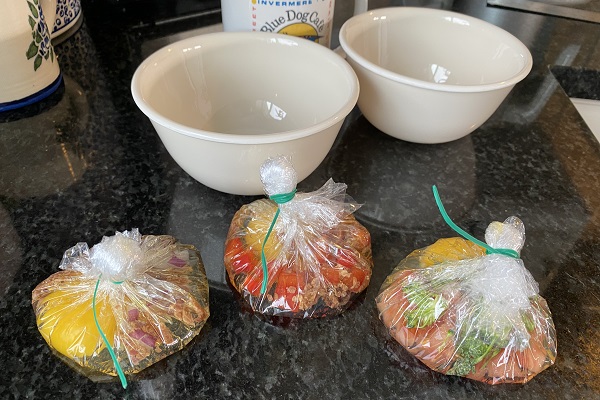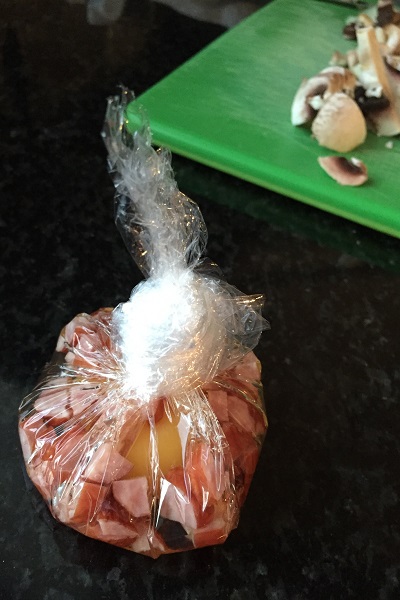 6.
Bring a few inches of water to a boil in a sauté pan or pot. Reduce to Low heat.
7.
Gently place the egg pouches in the water and cook to mom's preferred consistency:
10 - 12 minutes for a runny to soft yolk
16 - 18 mins for a medium to hard yolk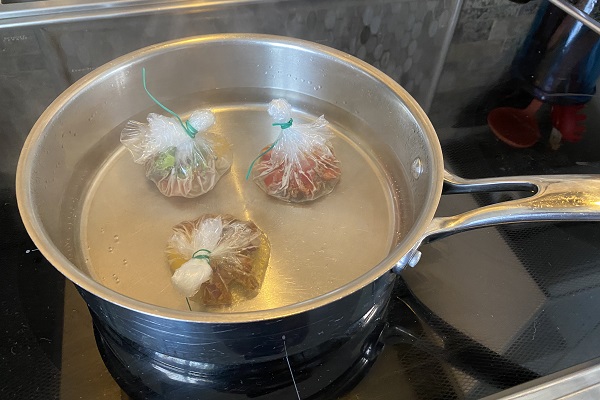 8.
While you wait, toast a slice of bread or an English muffin, and then top with a generous spread of butter, thick-sliced avocado, and a layer of baby arugula.
I use a fork to mash the avocado and spread it evenly over the toast, then I lay some arugula on top of the avocado.
9.
Remove the pouches from the water using the twist tie or knot as a handle. You may want to use a heat glove or silicone oven mitts to handle the pouches – they will be hot.
You can test the doneness of the egg by looking at it through the cling wrap, and/or by poking it gently with your finger. If it's under-done at this point, just place it back in the simmering water for another minute or two. Once it's done, place it on the counter and let stand for 1 minute before unwrapping.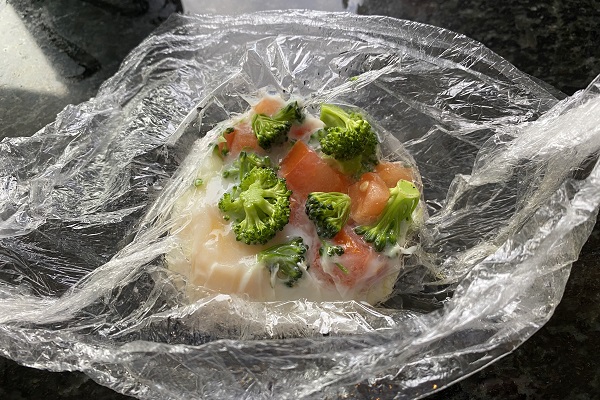 For the scrambled egg variation, squeeze the bag to break up the egg before moving on to the next step.
10.
Cut the top off of the pouch below the twist tie and tip the contents onto a slice of toast or English muffin. Break up with a fork if necessary. Season with salt and pepper.
(Below: Left: medium yolk, 15 minutes; Right: runny yolk, 10 minutes)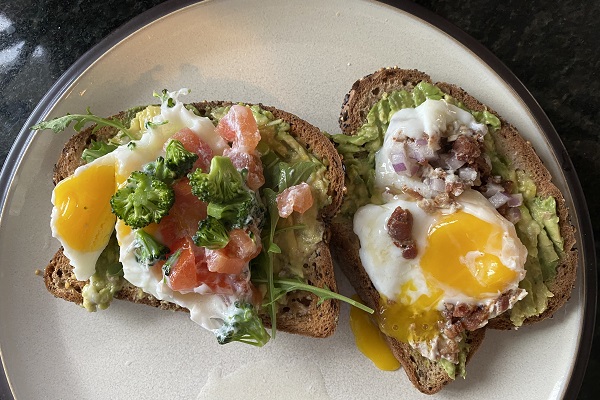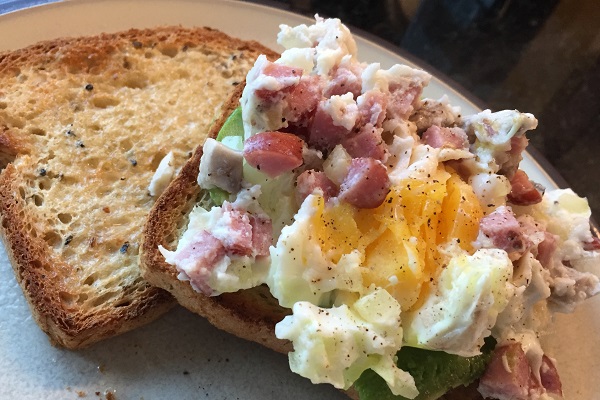 (Above: Medium/Hard yolk, 18 minutes)
Let mom sleep in, then bring her this beautiful breakfast-in-bed, along with a hot cup of tea or coffee.
Carbohydrate Content as pictured here, using 2 slices of Promise Gluten-Free Multigrain Loaf (at 5.5g carbs/slice), with two eggs plus onions, tomatoes, broccoli, bacon bits, and mushrooms: 15g of carbs total.
Total carbs: 15g
Total yield: 2 slices of toast + 2 poached eggs, all dressed
Please don't rely exclusively on my carb counting! Nutritional information is given for general information only, and will vary depending on the amount, type and brand of ingredients you choose - Please verify your carb and fat content when you make your own version of this recipe.