DRAGON BITES
carb-counted recipe
A family-friendly, mostly healthy (sometimes treat-y!) easy recipe for families living well with Type 1 Diabetes.
3 Ingredients. 3 Easy Steps. Enjoy a cold, refreshing drink in just over 3 minutes!
I first feel in love with watermelon smoothies (and the country!) when I traveled to Thailand many years ago. When I got back home to Canada I experimented with the best ratio of watermelon to ice to sugar, and this recipe is the result. These delicious watermelon smoothies beat the heat on summer days... and get four "thumbs up" from Max and Gemma!
Subscribe to our monthly digital newsletter, Dragon News, and we'll let you know when a new carb-counted recipe is out, plus article highlights, community news, and more tips on living well with type 1 diabetes.
Low-Carb? No
Gluten-free? Yes
Dairy-free? Yes
Nut-free? Yes
Active Time: 5 min
Cook: 0
Ready in: 5 min
Total Yield: 2 cups
Carb Content: ~16g carbs per cup
2 cups (280g) Watermelon, cut into 1" cubes (20g carbs)
1 tbsp (12g) Sugar (12g carbs)
1 cup Ice Cubes
1.
Cut watermelon into 1" cubes.
2.
Add all 3 ingredients to your smoothie maker or blender. Mix on "smoothie," "ice chop" or similar setting for 30-60 seconds, until well blended with minimal ice chunks.
3.
Pour into tall glasses, add a straw, and serve immediately.
Tip: If you want to get fancy, add a slice of watermelon to the rim of the glass as garnish. You could use a cookie cutter to shape the garnish slice to fit a party theme (I'm thinking of flowers, hearts, stars, moons, animals, your guest's initials...)
Tip: Recipe can easily be doubled or tripled, depending on your need and the capacity of your blender.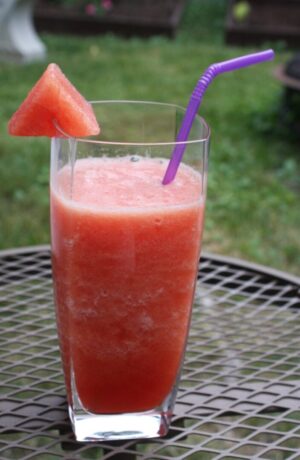 Total carbs: 32g
Total Yield: 2 cups of watermelon smoothie with a total weight of 480g.
Carb Factor: 0.07 carbs/gram weight
Carb content by volume: 16g carbs / cup
Please don't rely exclusively on my carb counting! Nutritional information is given for general information only, and will vary depending on the amount, type and brand of ingredients you choose - Please verify your carb and fat content when you make your own version of this recipe.