DRAGON BITES
carb-counted recipe
A family-friendly, mostly healthy (sometimes treat-y!) easy recipe for families living well with Type 1 Diabetes.
Halloween party ahead? Need a last-minute treat for the celebration at school? These adorable no-bake Witches' Hats use ready-made ingredients so you can whip up a batch... QUICK!
Gluten-free version included: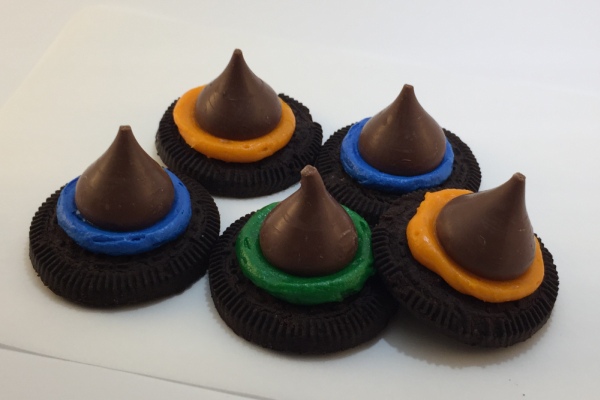 Subscribe to our monthly digital newsletter, Dragon News, and we'll let you know when a new carb-counted recipe is out, plus article highlights, community news, and more tips on living well with type 1 diabetes.
Low-Carb? No
Gluten-free? No (but GF version given below)
Dairy-free? No
Nut-free? Yes (But Dad's Chocolatey Coated Oatmeal Cookies "may contain peanuts and tree nuts" - swap out a nut-safe brand if needed).
Prep: 15 min
Cook: 0 min
Ready in: 15 min
Total Yield: 30-36 Witch Hat cookies
Carb Content: 19g per cookie (8g per GF cookie)
one 550g box Dad's Chocolatey Coated Oatmeal cookies
OR FOR GLUTEN-FREE: one 220g box of Kinnickkinnick K-Toos Chocolate Sandwich Cream cookies
two 120g tubes Cake Mate Decorating Icing, in Halloween colours
one 200g bag Hershey's Milk Chocolate Kisses
1.
Place 1 cookie upside-down on your work surface.
If you're using K-Toos to make the GF version, twist the 2 chocolate halves apart, scrape off the icing from both, and use each cookie-half as the base of a hat.
2.
Squeeze 1 tsp (6g) of icing onto the middle of the bottom of the cookie, keeping the tip of the tube close to the cookie so that the icing spreads out evenly in a circle.
3.
Place 1 Hershey's Kiss in the middle of the icing.
Repeat these 3 simple steps for the rest of the cookies and... you're done!
Total yield: 30-36 Witches' Hats
Each Witch's Hat contains 19g of carbohydrates as shown.
Each Gluten-Free Witch's Hat contains 8g of carbs as shown.
Please don't rely exclusively on my carb counting! Nutritional information is given for general information only, and will vary depending on the amount, type and brand of ingredients you choose - Please verify your carb and fat content when you make your own version of this recipe.